Report of Geohazards training session WP5-2: Dar es Salaam, Tanzania , 11 – 18 March 2018

0
Posted on 23, May 2018
in Category Non classé
Work-Package 5 Geohazards
Session WP5-2: Dar es Salaam, Tanzania
11 to 18 March 2018
Brief description of the course content and visited places
Over 70 applications were received and examined before the course and 31 were approved. The final list of trainees included 31 persons from 12 African countries. Noteworthy, 7 specialists from AMGC attended the course as well. The training was performed by 9 trainers from Geological Surveys of European countries and South Africa.
The welcoming address at the opening ceremony was given by Mr Ibrahim Shaddad, Director General of AMGC, followed by an introductory  lecture by Dr Jonas Satkunas, WP5 leader. A comprehensive overview of geology and geohazards in Tanzania was provided by Prof. A.H. Mruma, the CEO of the Geological Survey of Tanzania (GST).
During the course, lectures and presentations of case studies were given covering the following geohazards: landslides, geopollution, erosion/desertification, land subsidence, hydrogeohazards (including flooding), seismic and volcanic hazards (programme attached). During the discussions, case studies of geohazards from some African countries were presented as well. A feedback from all participants was received in the form of filled questionnaires. All responses were generally positive, and a number of suggestions and constructive remarks were provided.
A 2 day-field trip permitted to observe and discuss some geohazards and environmental issues in Tanzania. Particularly, recent effects of floodings in Dar es Salaam and landslide phenomena in Lushoto region (Usambara Mountains) were analysed. A special focus was also given to the management of slope processes in case of intensive agriculture practice. A field training on the measurement of slope stability parameters received great interest among the participants.
All trainees were supplied with printed lecture copies and USB units including all lecture presentations and other useful material and software. The attendance of the course was 100 percent and certificates of attendance were presented to all trainees.
A Whatsapp group of PanAfGeo WP5 Geohazard participants was created by the trainees to exchange practical information, photos and documents. A very successful and lively attended African song contest among the participants of the course was organised during the social gathering.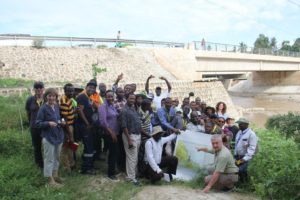 Studying flood consequences and management issues in Dar es Salaam.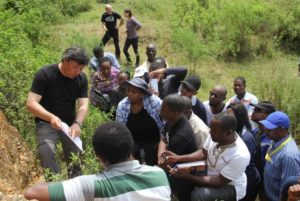 Training of measurements of the slope stability in Usambara mountains.
Venue: African Minerals and Geosciences Centre (AMGC), Kunduchi Beach Area, P. O. Box 9573, Dar es Salaam, Tanzania
Coordinator of WP-5 Dr Jonas Satkunas, Lithuanian Geological Survey.
Co-Coordinator Dr Souleymane Diop, Council for Geoscience of Republic of South Africa